Last updated on 2023-06-06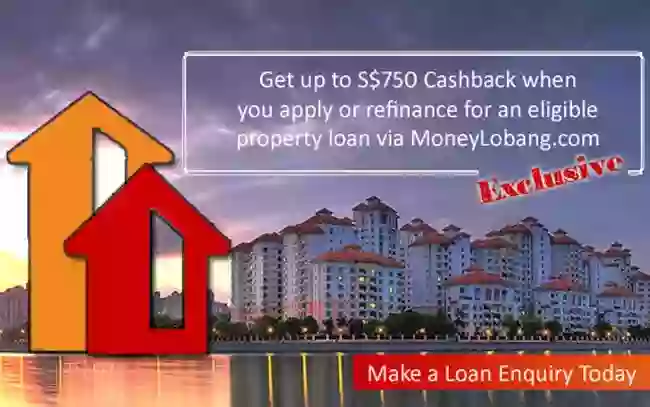 Successful applicants for a property loan will receive cashback according to the amount of approved
| | |
| --- | --- |
| Approved Loan Amount | Cashback |
| S$300,000 to S$499,999 | $100 |
| S$500,000 to S$749,999 | $150 |
| S$750,000 to S$999,999 | $200 |
| S$1,000,000 to S$1,249,999 | $300 |
| S$1,250,000 to S$1,499,999 | $400 |
| S$1,500,000 to S$1,749,999 | $500 |
| S$1,750,000 to S$1,999,999 | $600 |
| S$2,000,000 and above | $750 |
Ready to get Started?
Compare between various Property Loans and make a Loan Enquiry today.
Property Loan Cashback Promotion Terms and Conditions
Property Loan Promotion is only avaliable to eligible customers who submit a loan enquiry on MoneyLobang.com and is successfully referred for a property loan at a qualifying bank by "Money Lobang Pte Ltd" or "Keyquest Ventures Pte Ltd".
The promotion period starts from 1 Jan 2023 and ends on 31 Dec 2023
Customers will qualify for promotion if:
(i) he/she successfully applies and receives approval for a property loan that has a minimum amount of S$300,000 via our referral at a qualifying bank.
(ii) he/she quotes "Money Lobang Property Loan Cashback Promotion" when enquiring about his/her property loan within the promotion period
Customers will be ineligible for promotion if:
(i) they are seeking to reprice their property loan at their current bank. For example, an existing DBS home loan client that wants to refinance or sign up for another DBS home loan will not qualify for this promotion.
(ii) they are incapacitated, deceased, insolvent or have legal proceedings of any nature instituted against them at anytime during the application for propery loan.
Cashback
Eligible customers receive cashback per successful application based on their loan quantum
Successful applicants will receive their cashback via PayNow or bank transfer within 1 to 2 months from the acceptance date of your Letter of Offer from Money Lobang Pte Ltd
Casback earned from this promotion is non-transferable, non-assignable and non-exchangeable for any other item or purpose.
Money Lobang Ptd Ltd reserves the right to change or revoke the cashback at any signs of fraud, abuse or suspicious activity.
General
Money Lobang Ptd Ltd will not be liable to compensate any customers for any losses, expenses or claims resulting from the taking up of property loans with any financial institutions. Any dispute with the financial institutions should be resolved directly with them.
Money Lobang Ptd Ltd and its associate Keyquest Ventures Pte Ltd are acting as neutral third party referrers to financial institutions for property loans and are in no way related to any financial institutions. We may give our advice and suggestions to customers with regards to the property loan but it is up to each customer's discretion to follow or act on the advice or suggestion.
Money Lobang Ptd Ltd reserves the right to amend, delete or add on to any Terms and Conditions, including but not limited to amending the Promotion Period or amount of cashback, terminating the Promotion at any time without giving any reason or prior notice or assuming any liability. We shall not be liable for any claims, costs, expenses, losses or damages suffered as a result.