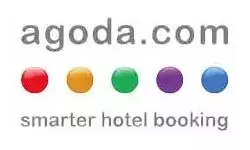 Last updated on 2023-11-22
Agoda provides online booking services for accommodations around the world. Consumers can choose from 1,000,000 accomodation which include hotels, resorts, apartments, B&Bs and guesthouses. Members have access to "Agoda Insider Deals" and can also earn Agoda Gift Cards which can be redeemed to offset future bookings. Agoda regularly have various promotions to offer discounts for consumers.
How to redeem an Agoda Promotion
Step 1 : Click on the "Click Here" (Important! as promo code field will only be available if you click through our links) to reveal the appropriate promo code needed. A promo code will be revealed below the "Promo Code : "and a new window will direct you to Agoda
Step 2 : Proceed to book the hotel and room of your choice tagged with "Promo Eligible" in the new window.
Step 3 : Apply the promo code revealed earlier on our website on the right side of payment page under the heading "Enter your Promo Code Here"
Still Confused?
Please view a step-by-step video for exact instructions.