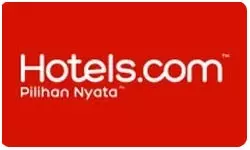 Last updated on 2023-11-22
Ms.Hotels.com is the localised version of Hotels.com for Malaysia and is one of the many international versions of Hotels.com to better cater to each country's demand. Their promotional activites differ from Hotels.com with the discounts and coupon codes listed here applicable exclusively only for Ms.Hotels.com. Payment is usually in Malaysian Ringgit and members can still collect Welcome Rewards nights stay for the Welcome Rewards program.
How to use a Hotels.com Coupon Code
Step 1 : Click on the "Click Here" to reveal the appropriate coupon code needed. A coupon code will be revealed below the "Coupon Code : "and a new window will direct you to Ms.Hotels.com
Step 2 : Proceed to book the hotel and room of your choice in the new window. Some coupon codes require you to make the booking using their stated links
Step 3 : Apply the coupon code revealed earlier on our website on the right side of the payment page in the booking summary box
Still Confused?
Please view a step-by-step video for exact instructions.