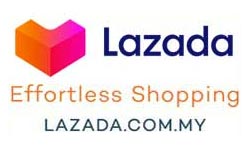 Lazada is an e-commerce website that focuses on online retail in South-East Asia. They sell a wide selection of international, local, unique and exclusive products from various categories such as consumer electronics, home and living, toys and babies, health and beauty, fashion, travel, sports, watches, etc. They aim to revolutionize shopping by providing a secure, reliable and effortless shopping experience for online shopper. Promotional voucher codes are listed below and discounts can be applied on all products listed on Lazada.
How to use a Discount Promotion Voucher
Step 1 : Click on the "Click Here" to reveal the appropriate promotion code needed. A promotion code will be revealed below the "Promotion Code : "and a new window will direct you to Lazada
Step 2 : Proceed to do your shopping on Lazada in the new window
Step 3 : When you are checking out your shopping bag, apply the promotion code revealed earlier on our website on the right side of the payment page under the order summary
Still Confused?
Please view a step-by-step video for exact instructions.