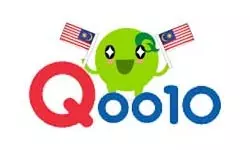 Last updated on 2020-07-16
Qoo10 is a joint venture between Ebay and Korea's Gmarket to bring together diverse online buyers and sellers with the most competitive prices. Qoo10 represents the quest and search for perfectness and as a result, Qoo10 is already firmly established as a leading marketplace in several countries. Through a fun shopping experience, Qoo10 members are able to earn and redeem cart coupons, Qstamps, Qpoints and MameQ through various activities and promotions which can be used directly or indirectly to offset purchases.
How to use a Qoo10 Coupon Code
Step 1 : Click on the "Click Here" and a new window will direct you to Qoo10
Step 2 : Scroll down if you don't see the link for Qoo10 cart coupons
Step 2 : Click on the cart coupon link after finding it and the coupon will be added to your Qoo10 account. Proceed to do your shopping on Qoo10
Step 3 : When you are checking out your shopping cart, click on "Use my Coupons" below the order summary to redeem the discount stated on your coupon
Still Confused?
Please view a step-by-step video for exact instructions.