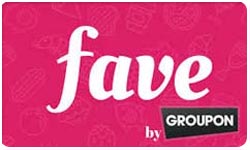 Fave Singapore (previously Groupon) Background
Groupon Singapore was acquired by Fave and will be renamed as Fave Singapore. Fave is essentially a deals and discounts platform that focuses on providing a mobile-first approach that allows consumers a seamless, cashless transactional experience when making purchases through the Fave App and using FavePay. In addition to the deals seen often on Groupon, Fave Singapore also features popular discounted deals from thousands of businesses for travel, food and beverages, consumer products, services, beauty & wellness treatments and even for classes or activities, etc.
How to use a promo code
Step 1 : Click on the "Click Here" to reveal the appropriate promo code needed. A promo code will be revealed below the "Promo Code : "and a new window will direct you to Fave Singapore.
Step 2 : Proceed to do your shopping on Fave Singapore in the new window
Step 3 : When you are at the payment page, apply the promo code revealed earlier on our website on the right side of the payment page under the link "Add Promo Code".
Still Confused?
Please view a step-by-step video for exact instructions.