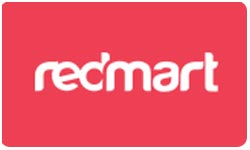 RedMart Background
RedMart is a Singapore based online supermarket that aims to help consumers save time and money through purchasing everyday groceries online. They promise to pass on the savings from not operating physical stores and related costs to consumers. Redmart has since been acquired by Lazada in 2016 and been merge into Lazada starting from 15 Mar 2019. Consumers can still continue to enjoy regular promotions and discounts on groceries on RedMart's Official Store in Lazada using Lazada Promo Codes.
How to use a Discount Promotion Voucher on Lazada
Step 1 : Click on the "Click Here" to reveal the appropriate promotion code needed. A promotion code will be revealed below the "Promotion Code : "and a new window will direct you to RedMart's Official Store on Lazada
Step 2 : Proceed to do your shopping on RedMart's Official Store on Lazada in the new window
Step 3 : When you are checking out your shopping bag, apply the promotion code revealed earlier on our website on the right side of the payment page under the order summary
Still Confused?
Please view a step-by-step video for exact instructions.