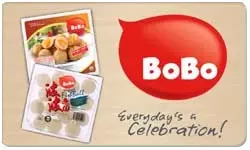 BoBo brand of fishballs and fishcakes are well known for its freshness and quality. Their products are avaliable at major online and offline retailers such as RedMart, Sheng Siong, NTUC Fair Price, Giant, Cold Storage, etc. BoBo customers can enroll in their rewards program, GadPoint which allows them to accumulate gadpoints. Every 5000 gadpoints can be used to redeem $5 worth credits or vouchers. Promotion codes avaliable below are applicable for both online or offline purchases at all eligible merchants*.
How to use a Bobo Gadpoints promotion code
Step 1 : Click on the "Click Here" to reveal the appropriate promotion code needed. A promotion code will be revealed below the "Promotion Code : " and a new window will direct you to GadPoint
Step 2 : Proceed to do your shopping for BoBo products at eligible retailers*.
Step 3 : Apply the promotion code revealed earlier on our website in your GadPoint account in News Tab under the heading "Enter your friend's promo code/mobile number"
Step 4 : Upload the receipts with BoBo products from eligible retailers* in your GadPoint account and earn Credits / Cashback / Vouchers
*Eligible retailers include 7-Eleven, Ang Mo Supermarket, Cheers, Cheers ExxonMobil, Cold Storage, Giant Singapore, I-Tec Supermarket, Marketplace, Mustafa Centre, NTUC FairPrice, Prime Supermarket, Sheng Siong, Yes Supermarket, Yeu Hwa Singapore and all online retailers carrying BoBo products.