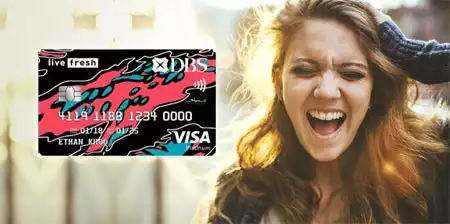 Last updated on 2023-05-16
1. DBS Live Fresh Card 5% Cashback
3. DBS Live Fresh Card Minimum Spend
4. Other DBS Live Fresh Card Benefits and Promotions
DBS Live Fresh Card 5% Cashback
With a 5% cash back on online, eco-merchants and Visa contactless spend, the DBS Live Fresh Card tries to appeal to the younger tech-savvy users and is a key product among DBS Credit Cards with regular promotions and tie-ups with popular merchants. The 5% cash back on Visa contactless spend makes it the perfect general everyday spend card as most merchants now accept contactless payments and the card definitely deserves its place as one of the better Credit Cards for Cashback out there in the market.
How to Earn 5% Cashback?
Earn 5% cashback on online, eco-merchants and Visa contactless spend and 0.3% cashback on all other spend. There is a cash back cap of $20 on each of the three categories (online, Visa contactless and all other spend), $15 on eco-merchants and a total cashback cap of $75 per calendar month. Cashback will be credited to your card account on the 30th calendar day following the last day of the calendar month.
DBS Live Fresh Card Minimum Spend
DBS Live Fresh Card has a relatively low minimum spend of $600 a month as compared to other Credit Cards for Cashback which can be easily met by shifting daily expenses either to online spend or through Visa contactless payments.
Other DBS Live Fresh Card Benefits and Promotions
DBS runs regular card-specific limited time promotions for DBS Live Fresh Card in an effort to promote card usage and sign ups. The promotions can range from good old promotional campaigns that provide extra cashback on top of its regular cashbacks to awarding aspirational lucky draw prizes to cardholders who spend using the DBS Live Fresh Card.
The latest 5% cash back for eco-merchants (capped at $15) is stackable with 5% cashback for Visa contactless payments (capped at $20) and cardholders can earn up to an attractive 10% cashback using Visa contactless payments on eco-merchants such as when using Simply Go on public transport.
DBS is running a separate sign up promotion for the DBS Credit Cards which award new cardholders with $150 cashback if they sign up for the card and spend a mnimum of $800 within 60 days of card approval.
Other than card exclusive promotions, DBS Live Fresh cardholders can also enjoy promotions and discounts with a wide range of merchants that have tie-ups with DBS credit cards. These often include discounts for shopping, dining, online, activities, travel, etc (See Online Shopping Discount Codes for extensive list of discounts at various online merchants). Cardholders will receive additional 5% cash back on top of these discounts if they shop online or pay using Visa contactless.
DBS Live Fresh Card Review
The cash back cap of $20 or $15 for each category spend (base online spend, Visa contactless payments or eco-merchants spend) is quite low and one can easily hit the maximum cash back cap by spending $400 online or via contactless spend. This category cash back cap was put in place in June 2018 in an effort by DBS to make it more difficult for cardholders to earn cashback and is unlikely to be lifted anytime soon.
To conclude, DBS Live Fresh Card has a decent 5% cashback rate for online shopping, Visa contactless spend or eco-merchants spend but only to be limited by a low $20 or $15 cashback cap for each category. Nevertheless, the card has a relatively low minimum spend of $600 per month and have regular attractive promotions which can help cashback chasers earn more cashback or direct discounts. Hence, the card definitely still deserves its place in a cashback chaser's wallet.