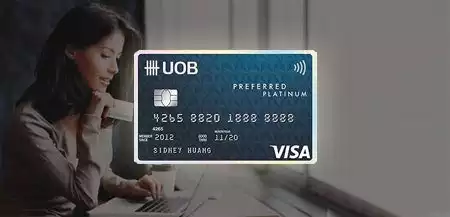 Last updated on 2023-09-06
1. Best Credit Card for Airline Miles in Singapore 2023
3. Other UOB Preferred Platinum Card Benefits and Promotions
4. UOB Preferred Platinum Card Review
5. Are Credit Cards for Airline Miles Worth Applying For?
Best Credit Card for Airline Miles in Singapore 2023
With an earn rate of 10X UNI$ (or 4 air miles per $1 spend) on selected contactless and Online transactions, the UOB Preferred Platinum Card ensures that one can earn the magical 4 air miles per $1 spend on almost anything and therefore rendering it the best general everyday spend card for miles chasers. We say "anything" because most merchants now accept contactless payments while you can buy almost anything online. The contactless earning feature also makes it so convenient for us to add the card to our phones and go cashless and cardless with just our phones as a wallet.
Likewise with many other Mileage Credit Cards, there is no minimum spend but the total UNI$ awarded from qualifying spend on online and contactless transactions is capped at UNI$2,000 (equivalent to a cap of $1,000 spend) for each calendar month.
How to Earn Airline Miles?
Earn 10X UNI$ (UNI$10 for every $5 spend) for selected online and contactless transactions (capped at UNI$2,000 per calendar month). After which, earn UNI$1 for every $5 spend. Earn UNI$1 for every $5 for all other spend as well. UNI$ can be converted into air miles at the conversion rate of UNI$1 to 2 air miles. No UNI$ will not be awarded on transactions at SMART$ merchants where SMART$ are issued. Some prominent SMART$ merchants include Shell, Breadtalk, Cold Storage, Giant, Cathay Cineplexes. See here for full list of SMART$ merchants.
Other UOB Preferred Platinum Card Benefits and Promotions
There are no additional card-specific perks to scream about but there is a sign up promotion where new UOB cardholders will receive $350 Cash Credit when they charge a minimum of $1,000 per month for 2 consecutive months to their principal card from card approval date. Then again, one can sign up for any UOB credit cards to enjoy the same promotion so there is really nothing special here.
UOB Preferred Platinum Card Review
The UOB Preferred Platinum Card might be a very useful card to have for miles chasers but it comes with so many catches. Let us break it down for you.
The card does not earn UNI$ and therefore miles at SMART$ merchants as mentioned earlier. Instead, it earns a paltry 2% to 3% rebate in the form of SMART$ at most SMART$ merchants instead. SMART$ earned can be used to offset purchases at any SMART$ merchant. Cardholders whom we presume to be chasing miles since they have this card will have to exercise care not to use this card at SMART$ merchants and this can be tiresome.
Online transactions earning 10X UNI$ include online transactions from Department Stores and Retail Stores, Supermarkets, Dining and Food Delivery, Entertainment and Ticketing categories. This include most major online retailers in Singapore but exclude smaller online retailers. UOB is known to be quite restrictive on the list of online transactions earning 10X UNI$ as compared to similar cards also earning 4 miles per $1 online spend such as Citibank Rewards Card or DBS Woman's Card.
Selected contactless transactions exclude transactions made using Visa payWave and Samsung Pay. This was made effective from 22 May 2020 onwards. Cardholders can continue to earn 10X UNI$ on contactless transactions made using Google Pay, Apple Pay or UOB Mighty. We can only hope the decision to exclude Visa payWave and Samsung Pay is not the first step to excluding all contactless transactions from earning 10X UNI$.
The cap of UNI$2,000 (equivalent to $1,000 spend) for each calendar month is also considered relatively low for a card that can be used for practically anything due to it 10X UNI$ earn rate on selected contactless transactions. This means that this card will probably not be suitable for large-ticket purchases. The cap was implemented in 2017 and is unlikely to be lifted.
Cardholders earn UNI$ in blocks of $5 rounded down. To give an example, $5 or $9.90 spent on qualified online transactions will both earn UNI$10 (equivalent to 20 air miles). Hence, it will not make sense to use this card for any purchase below $5 or smaller amounts that are not near multiples of 5. So much for a general everyday spend card.
UOB automatically deducts UNI$ from cardholders' UNI$ account balance (if sufficient) as an annual fee waiver when it is time for annual fee payment. This is done without notice to the cardholder even though one can call up UOB and request for a fee waiver and a reinstatement of the missing UNI$. The annual fee waiver for the UOB Preferred Platinum Card is UNI$4,800 which is equivalent to 9,600 miles. This irritating practice of siphoning off your miles is a tad inconvenient to cardholders who pay close attention to their bills but quite painful for cardholders who have painstakingly spent at least $2,400 ((4,800/10)*2) to accumulate the miles.
Are Credit Cards for Airline Miles Worth Applying For?
We have to answer this question with a resounding "Yes!" UOB Preferred Platinum Card is one of the only 2 cards in the market that award 4 air miles per $1 spend for contactless or mobile payments. Although UOB is clawing away this benefit by limiting 10X UNI$ to to Apple Pay / Google Pay / UOB Mighty from 22 May 2020, it remains to be seen if they will remove it entirely as they will still want to promote the use of UOB Mighty. The only other cards which continues to award 4 miles per $1 spend for all contactless payments with no restrictions is the HSBC Revolution Card which also caps 4 miles per $1 spend earn rate at $1,000 per month and the UOB Visa Signature Card which requires a minimum spend of $1,000 per month and caps 4 miles per $1 spend earn rate at $2,000 per month. Without these cards, miles chasers will be stuck with mileage credit cards that only earn at most 1.5 miles per $1 spend on general everyday spend (see Best Credit Cards for Miles).
OCBC Titanium Rewards Card used to earn 4 air miles per $1 spend for mobile payments but found it unsustainable and dropped it in 2018. We have a feeling that the many catches put in place by UOB actually help to make it sustainable for UOB to maintain the magical 4 miles per $1 earn rate. However as always, there is no guarantee that UOB will do that as they can change their offerings at little or no advance notice.