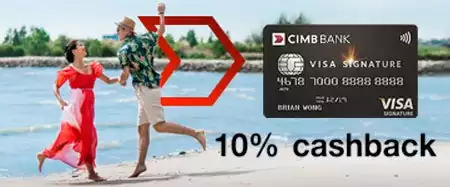 Last updated on 2023-01-01
1. CIMB Visa Signature Card 10% Cashback
3. CIMB Visa Signature Card Review
4. Other CIMB Visa Signature Card Benefits and Promotions
5. Should I Cancel My Credit Card?
CIMB Visa Signature Card 10% Cashback
Since 2019, CIMB has tightened the requirements for 10% cashback for CIMB Visa Signature Card and CIMB Platinum MasterCard. This is probably due to the fact they have probably hit their target milestones for number of cardholders and is unlikely to restore the generous requirements for cashback in the near future.
How to Earn 10% Cashback?
Cardholders will earn 0.2% base cashback with minimum $1 spend for all transactions. There is no cap for base cashback. Base cashback will be credited to the cardholder within the same statement month. Earn 9.8% bonus cashback online shopping, groceries, beauty and wellness, pets shop and veterinary service and cruise. Bonus cashback will be credited in the following statement month after monthly spending requirement of $800 has been met. Each category cashback is capped at $20 per statement month and total cashback is capped at $100. Monthly spend is calculated on a statement basis (Refer to your credit card statement date for the start date).
CIMB Visa Signature Card Review
The low category cashback cap of $20 means that it is almost impossible for a cardholder to receive 10% cashback on all his or her spending on the card regularly. This is due to the fact that one will hit the maximum category cashback cap with a mere spend of $200 for that category. One might easily spend $200 a month on online shopping and groceries but will find it more difficult to do the same for beauty and wellness, pets shop and veterinary service and cruise spend. Nobody goes on a cruise every month and even if one were to go, it will easily cost more than $200.
Simply put, CIMB might award a generous 10% cash back for cardholders but balances its books by making it difficult for cardholders to earn it.
Other CIMB Visa Signature Card Benefits and Promotions
The card was the Best Cash Back Credit Card in Singapore for the first half of 2019 and rightly so with its superior 10% cash back for 3 frequent spend categories.
What is left of its remaining perks are pretty insignificant if you compare them to the other Cash Back Credit Cards in the market. It has unlimited 0.2% base cashback (minimum $1 spend) for all transactions and complimentary basic travel accident insurance coverage of up to $500,000 for you and your family when you book your flights using the CIMB Visa Signature Card. We say basic travel insurance because only the principal cardholder will have coverage for baggage loss or delays, flight delays and trip cancellation. In any case, both perks are nothing to shout about and definitely not worthy to entice you to sign up for the card. However, a potential cardholder might get enticed by the sign up promotion which offers a cash credit of $100 with minimum $350 spend per month in each of the first 2 months after approval although there are better Sign Up Cashback Promotions for Credit Cards.
Should I Cancel My Credit Card?
There is no harm in keeping the CIMB Visa Signature Card due to its lifetime free membership perk (which also applies for all CIMB credit cards). However, CIMB credit cards have few tie-ups with merchants for discounts which means you will be better off chalking this card into your drawer then carrying it about in your wallet if you decide to keep the card.