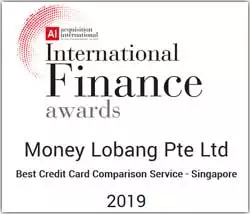 Last updated on 2022-07-12
Acquisition International 2019 International Finance Awards
Money Lobang Pte Ltd was nominated and awarded "Best Credit Card Comparison Service - Singapore" in the prestigious AI International Finance Awards 2019 by Acquisition International Magazine. The AI International Finance Awards recognises companies and individuals within the finance industry who have shown excellence and dedication in their field and is not limited to just finance companies but also showcase the best from the retail sector, internet and commercial banks, credit unions, savings and loans associations, investment banks and companies, brokerage firms, insurance companies and mortgage companies.
Interview with Money Lobang
Speaking on behalf of Money Lobang Pte Ltd, the company's Founder/Director Seng Ding Sheng said "We are extremely honoured to be shortlisted and win the "Best Credit Card Comparison Service - Singapore" in the AI International Finance Awards 2019. Competition is tough and being a smaller player in the online Financial Aggregation industry hasn't been easy but winning the award is a great testament to our business model which aims to inform and let consumers find the best deals online. We thank Acquisition International for the award and also highlight the fact that they have been extremely professional and meticulous in the whole nomination to award process."
About Acquisition International Magazine
Acquisition International is one of the many publications by AI Global Media, a UK based publisher which has over 200 issues to its name since 2010 and a circulation of 108,000 readers in over 170 countries. AI is a monthly magazine that seeks to inform, entertain, influence, and shape the global corporate conversation. They aim to achieve this through a combination of high quality editorial, rigorous research and an experienced worldwide network of dedicated advisors, experts and contributors.