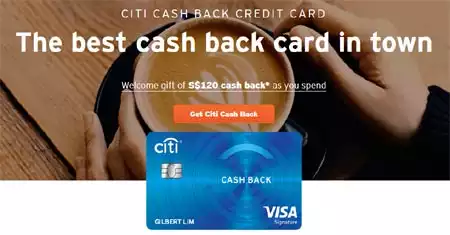 "Best Cash Back Card in Town"
Formally known as Citibank Dividend Card, the Citi Cash Back Card has long been touted by Citi as the best cash back card to the extent they changed the name of the card to make it clear that this card is all about cash back (8% cash back on Dining, Petrol, Groceries and Grab spend to be precise). While the card certainly offers the best and highest cash back for spending on major expenses among Citibank Credit Cards, it would be a stretch to say that it is much better than other competing Cashback Credit Cards due to its stringent requirements for cash back.
The Mechanics
The card earns 0.25% base cash back for all retail purchases. There is no cap for base cash back. It also earns 7.75% bonus cash back on dining, petrol and groceries after monthly spending requirement of $888 is met. Each category cashback is capped at $25 per statement month. Monthly spend is calculated on a statement basis (Refer to your credit card statement date for the start date).
Cash back will be credited monthly. A minimum accumulated cash back of $50 is required before cash back will be posted to card statement account. For cash back above $50, it will only be posted in integral multiples of $10 cash back. Any remaining or excess cash back not posted due to failing to meet the minimum cash back of $50 or integral multiples of $10 will be used in the calculation of cash back for the next statement month
Other Perks
Citi Cash Back Card is a category-based cash back credit card and as such only offer an unlimited 0.25% base cash back for all transactions. This is somewhat low if you were to compare to tiered-based or no-frills Cash Back Credit Cards. Citi's Visa version of the card (Citi Visa Signature Cash Back Card) also provides complimentary basic travel accident insurance coverage of up to S$1,000,000 for you and your dependents when you book your flights using the card with coverage for travel inconveniences applicable to cardholder only. Cardholders need to activate their travel insurance here after booking their flights.
Citibank cardholders can also enjoy promotions and discounts under its Citi World Privileges due to extensive tie-ups with a wide range of merchants. These include discounts for shopping, restaurants, bars, online, travel, hotels, lifestyle, etc (See online shopping discount codes for extensive list of discounts at various online merchants).
Citibank is curently running a signup promotion for new Citibank credit cardholders where they can receive $120 cash rebate. Cardholders will need to spend a minimum $1,200 within first three months excluding month of card approval to qualify for the cash rebate. This adds up to about four months to spend $1,200 if you time your application properly at the start of the month. The minimum spend can also easily be met if you are eyeing the 8% cash back every month and will need to spend a minimum $888 a month. Having said that, there are other more attractive Signup Promotions for Credit Cards Cash Back and this shouldn't be the main draw for you to sign up for this card.
Citibank is also running a limited time signup promotion that does not stack with the above offer which awards new cardholders with an additional $350 cash back with minimum $500 spend when they sign up via MyInfo. This promotion is not limited to this card but also applies for several other Citibank Credit Cards such as Citi Rewards Card. This extremely generous offer is limited to first 1,500 signups and expires on 14 Jul 2020.
So, What's the Catch?
The cash back cap of $25 for each category spend is low and one can easily hit the maximum cash back cap by spending $312.50 ($25/0.08) on a category. One will have to watch his spending on the three categories (petrol, groceries and dining) very carefully to ensure that he does not spend more than $312.50 for each category and yet hit the high minimum total spend of $888 per statement month to maximise the use of 8% cash back for the selected categories. This might be doable in theory but difficult to execute in practice and cardholders might do better using other cards with lower headline cashback but also lower minimum spend to receive the cash back.
Another irritating aspect of its cash back policy lies with the fact that one needs to accumulate $50 cash back in order for cash back to be credited into the credit card account. Cardholders will be able to accumulate $50 monthly if they focus their spending on the four cash back categories and fulfill the minimum spend of $888 in a month ($888*0.08=$71.04) but that is no excuse for Citibank for being the only bank to practice such a policy.
Is the Card still Worth Signing Up for?
To conclude, Citi Cash Back Card has a high 8% cash back rate for four major spending categories but is bogged down by a low cap for cash back for each category, high total minimum spend to receive the bonus cash back and a minimum $50 accumulated cash back for cash back to be posted into the card account. It is obvious that Citbank is merely offering a high cash back rate on paper but makes it difficult for cardholders to receive the cash back through various requirements.
Nevertheless, it is worth noting that Citi Cash Back Card offers one of the highest savings for fuel at Shell and Esso (See Best Credit Cards for Petrol), one of the highest cash back for any supermarket (See Best Credit Cards for Groceries) and also one of the highest cash back for everyday dining (See Best Credit Cards for Dining) thanks to the additional 7.75% bonus cash back. These perks ensure that the card still warrant a place among cashback chasers if one can fit the card into his or her daily spend.