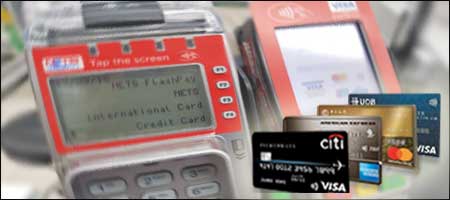 Free Flights with Miles
Everyone loves a freebie. Almost everyone loves to travel (if they can afford it). Add this two together and one can understand how an attention grabbing headline like "How to book Singapore Airlines First Class Suites for under $500" can attract or even inspire others to try to spend and collect enough air miles on their mileage credit cards to earn that illusive free flight for their dream holiday. However, is it really so easy to redeem the free flight? How much does one actually has to spend on credit cards in order to redeem the free flight? Are there any hidden costs involved?
How to Redeem Free Flights?
The first step to embark on your quest to redeeming a free flight is to lay your hands on one of these Credit Cards for Miles. Choose mileage credit card(s) that earn some decent miles per dollar (see Best Credit Card for Air Miles) and/or credit card(s) that are giving out free miles for signup promotion (see Miles Signup Promotion Comparison).
The next step is to spend on the card(s) and wait for the points or miles to be credited into your credit card account. Transfer the points or miles in your credit card account to your Krisflyer account (equating air miles to Krisflyer miles as that is the most popular mileage redemption for Singaporeans) and you will be able to redeem your flight using miles either on SIA website/App or by SIA reservation hotline.
So How Much Exactly do I Have to Spend?
With the easy stuff out of the way, lets get down to the technical stuff.

At Least $3,750 for Nearby Getaway
A quick look at the SIA redemption chart above (One-way) shows that it takes a minimum 15,000 Krisflyer miles to redeem a return economy ticket to the cheapest Singapore Airlines redemption destination (Zone 2 Malaysia, Indonesia & Brunei on SIA redemption chart). Using a generous high earn rate of 4 mpd (miles per dollar) spend for everyday spend (see Best Credit Cards for Air Miles), one would be looking at spending at least around $3,750 (15,000 miles / 4 mpd) before he or she can even think about checking out potential holiday destinations.
At Least $7,500 for Better Value for Miles
Any self-proclaimed miles collecting expert will let you know that short haul flights for nearby getaways provide poor value for your miles and if you really want to get more value out of your miles, one will need to look at long haul flights. Definition of long haul flights differ but lets just use flights flying to Zone 4 and above (Anywhere outside South-East Asia) since redemptions on Zone 2 and 3 (South-East Asia) are dominated by Silk Air, a regional associate of Singapore Airlines. Redemptions for Zone 4 start at 30,000 Krisflyer miles for a return economy ticket which means spending at least around $7,500 (30,000 miles / 4mpd) if we use the same generous high earn rate of 4 mpd.
Business and First Class Redemptions
If your aim is to maximise value out of your miles, than you will be looking at business or first class flight ticket redemptions. Business class tickets normally cost more than 5x economy class tickets if you were to pay for it but will only require around 2.5x the miles needed for economy class tickets if you were to redeem miles. Likewise, first class tickets normally cost more than 14x economy class tickets if you were to pay for it but will only require around 3.5x the miles needed for economy class tickets if you were to redeem miles. From the figures above, it can be concluded that miles are more valuable than cash when it comes to redeeming / purchasing business or first class air tickets.
At Least $8,750 for Business Class Flight and $12,500 for Business Class Flight
Redeeming the cheapest business class return ticket (Zone 2) will require 38,000 Krisflyer miles. Using the same formula as previously, this equates to spending at least around $9,500 (38,000 miles / 4mpd). Similarly, redeeming the prestigious first class return ticket (Zone 2 again) will require at least 55,000 Krisflyer miles or $13,750 in spending (55,000 miles / 4mpd). Its a huge amount to spend considering the fact that you might not get much time to enjoy your short flight (at most around 2 hours) but considering a first class return ticket to Jakarta (Zone 2) cost $2,400++, its actually considered a pretty sweet deal in terms of rebate ($2,400 / $13,750 = ~18%).
Assumptions
All above calculations is based on the assumption that one can actually get 4 mpd spend using Mileage Credit Cards for everyday spend. However, the reality is that most mileage credit cards only award around 1.4 mpd for local everyday spend. Credit cards which can earn as high as 4 mpd usually requires specific payment methods such as PayWave, Mobile payments, etc. (our best bet since increasingly larger number of merchants accept contactless payments) or only award the miles based on spending for specific categories such as for shopping, online, overseas transactions, etc. The number of miles earned per month or year is also likely to be limited to a reasonable number (industry norm of 4,000 to 8,000 miles per month) subject to a minimum spend. Hence, it is very likely one will spend more than the amount quoted for the various redemption scenarios before he or she can get the required miles for free flight redemption.
Hidden Costs
There are plenty of hidden costs involved when it comes to flight redemptions and passengers often have to cough out some money in order to get the "Free" flight redemption.
Banks usually require a conversion cost to convert your points or miles in your credit card account into Krisflyer miles in your Krisflyer account. Typical fees are $25 to $40++ for each conversion meaning it will make more sense for you to accumulate enough points or miles before transferring to your Krisflyer account. Some banks have an annual fee in place instead which allows cardholders to convert from points to miles as many times as they want in a year subject to the minimum number of points required.
Points or miles in your credit card account are also subjected to minimum conversion amount and can only be converted in blocks of that amount (meaning only can convert 10,000 miles or 20,000 miles or 30,000 miles, etc. See Credit Card Air Miles Redemption Rates). This system often leads to orphaned miles which are miles in your account that do not meet the minimum conversion amount and are wasted if left to expire or used to redeem less attractive rewards. Similarly, Krisflyer miles have a validity of 3 years and orphaned Krisflyer miles that do not get redeemed for flights will also suffer the same fate.
Airlines also require passengers making flight redemptions to pay for airport and government taxes for their flights. The taxes can differ for each destination and airlines. Fortunately, taxes for Singapore Airlines flights are usually quite reasonable and usually cost below $100 for short haul flights and below $200 for long haul flights.
Mileage Credit Card users are forgoing potential cash back they would have gotten if they were to use Cash Back Credit Cards instead and this translates to an opportunity cost. The opportunity cost (cash back) can be from 0.5% to 5% of spending if using a cash back credit card for general everyday spend but can be as high as 10% of spending if using a category-based cash back credit card for spending on specific categories such as for travel, dining, online transactions, etc.
Mileage Credit Cards Promotion
We won't blame you if you are discouraged from accumulating miles after reading about the costs and effort needed to make a flight redemption. However, the beauty about Mileage Credit Cards is that a lot of them regularly have various one-off promotions this can help you reach your mileage goals earlier. For example Citibank had a limited-time 8 mpd spend promotion when using Citibank Rewards Card with ApplePay in 2018 which was unheard of previously. Another more relevant example is Amex SIA KrisFlyer Ascend Card which is currently offering new Amex SIA credit card holders 32,000 Krisflyer air miles for spending $10,000 within 3 months of card approval. One can use 30,00 Krisflyer miles for a Zone 4 flight redemption (Hong Kong or Taiwan) or combine the miles from other mileage credit card promotions (see Miles Signup Promotions) for better value flight redemptions such as business or even first class flight tickets.
Mileage Redemption Promotion
Singapore Airlines lends a hand for those seeking mileage redemptions by regularly offer 30% miles redemption discount for the following month's selected flights under KrisFlyer Spontaneous Escapes. They also sometimes offer 50% miles redemption discount for all flights but it is extremely rare (Last happened in May 2015) ever since they hold regular monthly redemption promotion under KrisFlyer Spontaneous Escapes. Nevertheless 30% miles redemption discount is equavilant to spending 30% less on your credit card to get the required miles and is probably the only scenario where redemption for short haul flights actually provide decent value.