Reviews on Cashback Credit Cards
Reviews on Mileage or Reward Points Credit Cards
Reviews on Credit Cards Signup Promotions
Reviews on other Banking Products
Reviews on Shopping or Travel Websites
Reviews on Cashback Credit Cards
What is the Best Credit Card for Cash Back?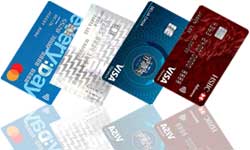 Cashback or Cash rebate refers to the credit that is credited back into your credit card after you have made your purchases with your credit card. It is typically a small percentage of the overall purchase and could be subject to terms and conditions...
Latest Promotions
Best Cash Back Credit Card in Singapore 2020 - DBS Live Fresh Card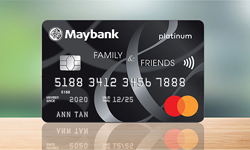 After the heroics of CIMB Visa Signature Card in the first half of 2019 which we have earlier predicted was not going to last due to its unsustainability, the baton for the best cash back credit in Singapore has now been passed to the modest and more dependent DBS Live Fresh Card. It does not offer an eye-popping 10% cash back like other Credit Cards for Cashback but what it does offer is a more sustainable 5% cash back...
Best Singapore Cashback Credit Cards with Dining Promotions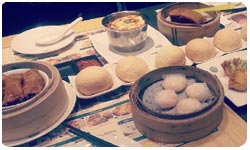 It is the time of the year to splash the cash for Chinese New Year again. One of the biggest expense during this festive season is on a good reunion dinner. With that in mind, banks have tied up with many restaurants to offer discounts for dining during this festive period. In addition to the specific discounts, there are also credit cards that offer benefits such as cash rebates or cashback for dining anywhere...
Best Cashback Credit Cards for Online Shopping Comparison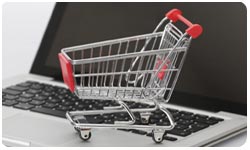 With the widespread popularity of online shopping websites such as Lazada and Zalora which promise lower prices than shopping at your traditional retail malls, there is a greater need for credit cards for online shopping which often reward online shoppers in the form of cashback or cash rebate. The cashback can be quite significant and to simplify the comparison process...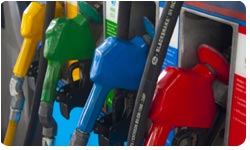 There are a number of credit cards that provide savings for topping up petrol in Singapore. The savings usually come in the form of direct discount, cash backs or rebates and specific reward points from the petrol company or the bank itself...
Best Credit Card for Groceries at Supermarkets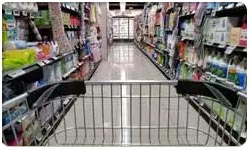 Grocery shopping might not sound like the most exciting activity to do in the hustle bustle of our everyday lives but it is definitely one that most cannot do without. It is also a costly affair as it can cost each family several hundred or even more than a thousand on groceries in a month. Through choosing the right grocery credit card...
Best Cashback Credit Cards for Overseas Spending Comparison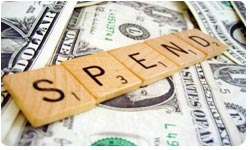 Credit cards typically charge 2.5% to 3.5% for overseas transactions in a different currency. These transaction fees are usually lower then the merchant's exchange rate. Hence, it makes sense to charge your purchases in a foreign currency when abroad and use the credit card's exchange rate instead of the merchant's exchange rate. As a general rule of the thumb, MasterCards and Visa Cards have similar transction fees...
CIMB Visa Signature Card Review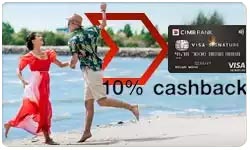 Ever since November 2018, the CIMB Visa Signature Card has ruled supreme over the other cash back credit cards with its unrivalled 10% cashback for local and overseas Dining, Online spend and Groceries and in the process providing valuable cashback for pretty much most of the major expenses of a modern family. That will be a distant memory, never to return as from 5 June 2019 onwards, CIMB has finally have had enough of burning cash...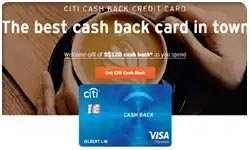 Formally known as Citibank Dividend Card, the Citi Cash Back Card has long been touted by Citi as the best cash back card to the extent they changed the name of the card to make it clear that this card is all about cash back. While the card certainly offers the best and highest cash back for spending on major expenses among Citibank Credit Cards, it would be a stretch to say that it is much better than other competing Cashback Credit Cards due to its stringent requirements for cash back...
Reviews on Mileage or Reward Points Credit Cards
Best Miles Credit Card in Singapore 2020 - UOB Preferred Platinum Card Review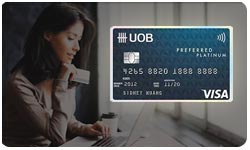 With an earn rate of 10X UNI$ (or 4 air miles per $1 spend) on contactless and online transactions, it ensures that one can earn the magical 4 air miles per $1 spend on almost anything and therefore rendering it the perfect general everyday spend card for miles chasers. We say "anything" because most merchants now accept contactless payments while you can buy almost anything online...
What is the Best Credit Card for Air Miles?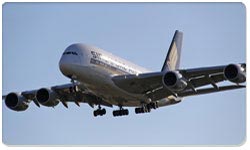 Many credit cards that are promoted as mileage credit cards are actually simply earning a higher number of reward points which can be converted to air miles for a fee. Different banks have different credit cards air miles redemption rates and also different fees for the conversion...
Best Mileage or Reward Points Credit Cards for Dining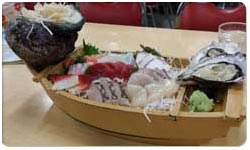 While credit cards with cash rebate or cashback for dining is the overwhelmingly preferred choice for most when it comes to dining, some Singaporeans prefer to accumulate air miles or reward points instead. The main reason why it may be better to use mileage or reward points credit cards for dining is that most of them do not have any conditions for minimum spend...
Best Mileage or Reward Points Credit Cards for Online Shopping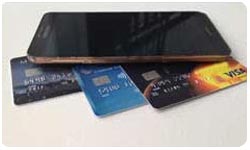 While there are plenty of cashback credit cards for online shopping that offer substantial rebate, online shoppers can also get rewarded in the form of air miles or reward points for their purchases if they use the right credit cards. Shoppers can accumulate miles or reward points more easily online as compared to offline as online purchases can be planned easily beforehand....
Best Mileage or Reward Points Credit Cards for Overseas Spending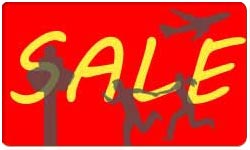 Although cashback credit cards for overseas spending can sometimes more than offset any overseas bank transaction fees involved, the minimum spending requirements could be a huge deterrence. Cardholders looking for other options might be be more inclined to use mileage or reward points credit cards instead to chalk up those miles or reward points and at the same time not be restricted...
Reviews on Credit Cards Signup Promotions
Credit Cards Signup CashBack Promotion Comparison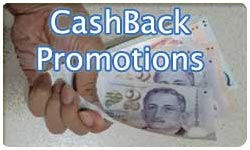 There is nothing better than cold hard cash as an incentive for a credit card signup but nobody really bothers to compare between the credit cards. This is mainly due to the fact that credit cards signup promotions change all the time and it is simply too tideous to scour through the fine print to understand what are the conditions to be fulfilled to attain the elusive cashback...
Credit Cards Signup Free KrisFlyer Miles Promotion Comparison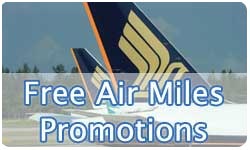 Everyone loves a free holiday and unless you got lucky and won one at a lucky draw, the other easy way out of Singapore to your dream holiday is through a free flight completely redeemed through free air miles. As previously mentioned on How my Wedding Expenses Paid for Free SQ Flight for Honeymoon, it is completely possible to spend and earn enough air miles to redeem for free flights using the right credit cards...
Credit Cards Free Luggage Bag Promotion Comparison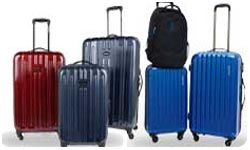 To attract new signups for credit cards, banks and financial institutions often give away free promotional gifts. Among the promotional gifts, the travel luggage bag is one of the most sought-after due to Singaporeans love for travelling. The minimum requirements to qualify for the free luggage bag can vary between the various credit cards...
Reviews on other Banking Products
Best Savings Account Interest Rates Promotion in Singapore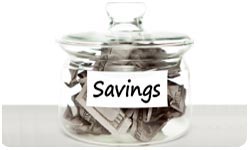 There are several current and savings accounts in Singapore that offer a higher interest rate as compared to your basic deposit account. Certain requirements or conditions have to be fulfilled before the higher interest rates are applicable. The requirements and conditions vary between deposit accounts but generally require depositors to spend or save a minimum amount of money each month...
Which is the best credit card?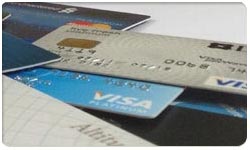 Credit Cards in Singapore are issued by financial institutions and are usually MasterCard, Visa, American Express, JCB, UnionPay or Diners Club Cards. MasterCards and Visa Cards are the most commonly accepted credit cards and will offer the greatest ease in payment at most merchants...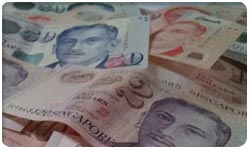 A Personal Loan is an unsecured loan given to an individual usually by a financial institution. Individuals can use the money for any personal use. Most Personal Loans in Singapore require a minimum annual income of $20,000 to be eligible...
Reviews on Shopping or Travel Websites
Best Hotel Booking Website Comparison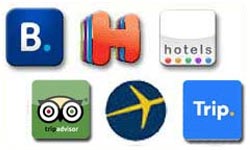 It is never easy to book a hotel for your holiday. There are many factors to consider and these usually include prices, locations, amenities, reviews from previous guests, etc. To make matters worse, just when you think you have selected the ideal hotel for your trip, you'll be faced with the chore of finding the cheapest price for the chosen hotel across the various booking websites...
Best Online Shopping Sites in Singapore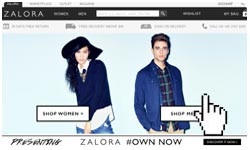 Online shopping provides a shopper the comfort of shopping from home, lower prices as compared to stores and the opportunity to buy limited edition or unique products not easily available elsewhere. However, there is always a risk when you shop online as fraudulent sellers or merchants might not deliver the products you have purchased from them...
Online Grocery Shopping Sites in Singapore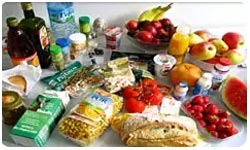 Faced with long working hours and an increasingly hectic lifestyle, Singaporeans are resorting to online grocery shopping to help save time and effort for their daily necessities. In addition to skipping the long queues and towing of heavy bags of groceries, online shoppers can purchase groceries at the comfort of their own home...